The Witch Costume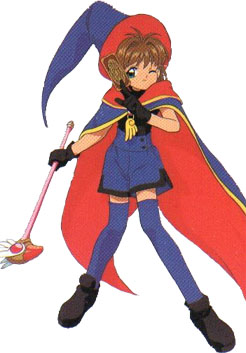 This costume briefly shows up in the beginning of an episode as Sakura and Syaron are attempting to capture The Storm.

Sakura is dressed as a little witch, which is appropriate since witches are magic users as well. The costume itself uses the three primary colors - blue, red and yellow along with a black accent. Her witch's hat is blue with the underside of the rim done in red. Sakura's cape follows the same color scheme, being blue on the outside and possessing a red lining and collar. Yellow cording highlights the the hem and outer seams of the cape. The cape is not cut in a flat line, but features the serrated edge Tomoyo seems to prefer. In this case, it splits into two large points, one at either side. The cut in between is sharp and runs almost up to the bottom of her short while the longer portions fall past her ankles.

For a shirt, she is wearing a simple, small black shirt. it is offset by a pair of blue shorts that have a very wide waistband. The waistband closes just to the left of her stomach (from her POV) with two small, black buttons. The hemline of the short's legs are done in black as well.

This costume also features the every popular thigh highs, in blue this time, and coordinating gloves, in black. For footwear, she sports a simple pair of black mid-tops.

Take a special note of the clasp holding the cape. It is a gold wing -- one of Sakura's personal insignia's that you'll spot frequently during CCS. What a nice touch on Tomoyo's part.



The Cherry Blossom Festival fanpage is copyrighted by Hillary Hunt, 1999 and 2000.
The image source material copyright belongs to its respective owners (see main page).
You may not copy my work from this page. Thank you.
Main :: Characters :: Cards :: Kero-Chan Corner :: Articles :: Links :: Email Me