The Red Cape Battle Costume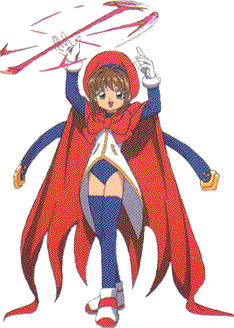 This is Sakura's very first battle costume! Tomoyo choose very bold colors for her first effort, which helped Sakura stand out well in the dark of night as she battled The Shadow in the school's playground late at night.

The base for this outfit is a longsleeved, navy bodysuit. Over this, Tomoyo has placed a white vest. The vest has tails, much like an elegant tuxedo. It is cut short in front and then begins a quick and graceful line to the long tails. The edges of the vest, as well as its pockets, are detailed with gold.

Matching the body suit are thigh high socks in the same navy color. To match the vest, Tomoyo choose a pair of white gloves with puffed wrists.

Catching the eye with its boldness is a brilliant red cape. Cut into sharp, long triangles along the hem, the angles are offset by a poofy bow which ties around Sakura's neck. Running down the back of the cape are a pair of navy straps finished with gold buckles.

Atop Sakura's head is a cape that is similar to her school hat. The large, circular part of it is the same red as the cape. The band which holds it to Sakura's head is navy like her socks and bodysuit.

Finally, Sakura wears a pair of ankle high boots in white and red to coordinate with the rest of her outfit.



The Cherry Blossom Festival fanpage is copyrighted by Hillary Hunt, 1999 and 2000.
The image source material copyright belongs to its respective owners (see main page).
You may not copy my work from this page. Thank you.
Main :: Characters :: Cards :: Kero-Chan Corner :: Articles :: Links :: Email Me